Virat Kohli Sister's Emotional Post: Captain Virat Kohli and fans are disappointed after Royal Challengers Bangalore (RCB) was knocked out of the Indian Premier League (IPL)-14. RCB did well in this season of IPL. He made it to the playoffs with 18 points, but Kolkata Knight Riders (KKR) overpowered him in the Eliminator match and defeated him by 4 wickets and knocked him out of the tournament.
This was the last IPL of RCB under Kohli's captaincy. Before the start of the second leg of the tournament, Kohli had announced to step down from the captaincy. He took this decision to focus on batting. Kohli captained RCB for the last time on Monday. He commanded the team for 9 years. On this journey of Kohli, his sister Bhavna Kohli Dhingra has written an emotional post on Instagram.
He wrote, 'You gave your best as captain. No matter how difficult the situation was, you always kept your spirits up. You will always be a great captain. Forever worthy of respect and admiration. Proud of you brother. Virat Kohli on Monday confirmed that he will no longer be the captain of RCB. He also made it clear that he has no intention of leaving RCB.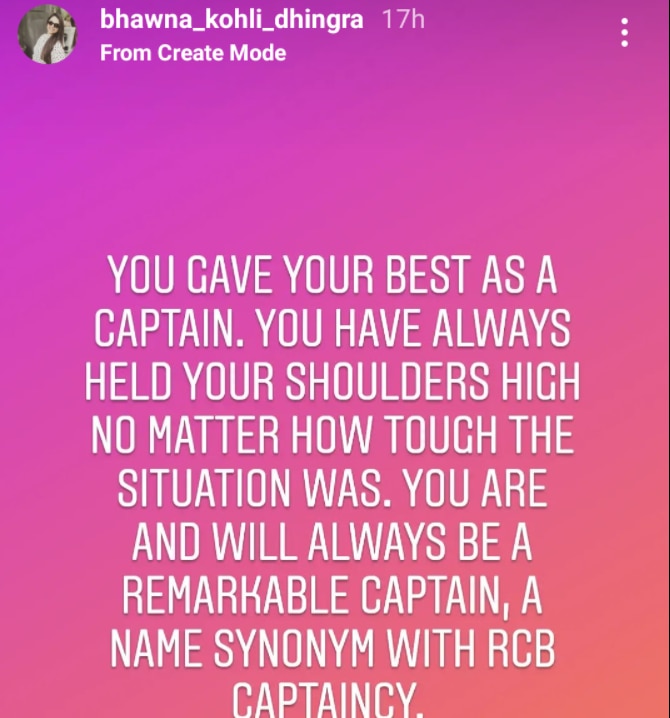 Who will get the captaincy of RCB?
After Virat Kohli, in whose hands the captaincy of RCB will be in the hands, this is a big question. The franchise will have to take a decision on this before next year's season. According to reports, KL Rahul may part ways with Punjab Kings. And in the coming time, he can be given the command of RCB. Apart from this, RCB also has legends like Glenn Maxwell and AB de Villiers, who have the ability to handle this post. Maxwell has previously captained Punjab Kings. While de Villiers has been the captain of the South African team.
read this also-
Dhoni on T20 WC 2021: How much amount will be given to mentor Dhoni? Jay Shah's statement
Avesh Khan: This bowler will join Team India in WC, got reward for strong performance in IPL-14